CHINA DAILY
Updated: 33 sec ago
BEIJING -- Global observers have been speaking highly of the warmth and wisdom embedded in the "unique diplomatic strategy and style" crafted by Chinese President Xi Jinping.
The observers made the remarks in reaction to "Major-Country Diplomacy," a six-episode political documentary rolled out by China on its diplomatic principles, practices and achievements over the past five years.
The TV series on China's major-country diplomacy sums up quite effectively some of the most important events of the last five years in which China has played a decisive role, said William Jones, the Washington Bureau chief for Executive Intelligence Review news magazine.
"It gives the picture of a man who is genuinely a 'people person' and shows the sincere warmth of his personality," Jones said, referring to the Chinese president who took office in March 2013.
The series breathes a spirit of hope and optimism into a world still plagued by poverty, wars and devastations, he said, noting that Xi's call for a new paradigm in international relations based on a win-win formula represents a clear break with the old political formulas characterized by zero-sum geopolitics.
Khairy Tourk, a professor at Stuart School of Business of Illinois Institute of Technology (IIT), said the developing countries have been trapped in the post-1945 global order, where they are always at a disadvantage.
"Xi's policies are changing all of that," he said.
Among others, the observer said many weak nations have been trapped in the old order because they are raw material-producing countries and lack the means to achieve modernization; meanwhile, China is ready to share its advanced technology, like high-speed railway technology, with these countries.
China's major-country diplomacy "treats all countries, big or small, as equals" and "promotes friendship among peoples as the bedrock and guarantor of friendship and cooperation among states," said Keith Bennett, vice chairman of Britain's 48 Group Club.
Xi has crafted a unique diplomatic strategy and style for his country, which serves to not only promote the great rejuvenation of the Chinese nation, but also to move forward towards the creation of a shared future for mankind, Bennett said.
"As such, his energetic, tireless and visionary diplomatic activity is admired, appreciated and closely followed not only by the Chinese people, but increasingly by people all over the world as well," he said.
Taking notice of the wisdom in China's diplomacy, observers highlighted the Belt and Road Initiative proposed by Xi on Sept. 7, 2013 in a speech at Kazakhstan's Nazarbayev University.
The initiative comprises the Silk Road Economic Belt and the 21st Century Maritime Silk Road, which aims to build trade and infrastructure networks connecting Asia with Europe and Africa on and beyond the ancient Silk Road routes.
China launched the Belt and Road Initiative very seriously and with massive plans that would reach a larger part of the world, said Nourhan el-Sheikh, a professor of political science at Cairo University.
The Belt and Road Initiative is an expression of China's opening up 2.0, said David Gosset, a founder of the Europe-China Forum, adding that it is a structured global projection aiming at finding mutually beneficial political and economic synergies.
"The Belt and Road Initiative, without any doubt, is providing the world with a new economic engine," said Tourk.
This is the major engine for growth in the 21st century, he said, adding that with the policy, the economic outlook would be brighter.
The wisdom of China's diplomacy is also reflected in the reality that China has been seeking to build bridges with the West, and that it does not pose a threat to any other country in the course of its development, Tourk observed.
China needs technology from the West, while the West needs the Chinese market, and China is creating an interconnected world, he said. By doing this, China can get respect from other countries and will obtain win-win results together with the other countries, he said.
For Tourk, another reason leading to the success of Chinese diplomacy is patience.
"Eating bitterness," "thinking carefully before taking action," and always "thinking in the long-term" are unique Chinese values reflected also in its diplomatic policies, he said.
For example, the professor said, one of the reasons that the West has kept infrastructure development from expanding to developing countries is that people in the West want quick returns on investment.
China, however, provides countries with long-term loans in the construction of the Belt and Road, he said, noting that "patience is something to ensure the success of the grand vision of the Belt and Road."
NANCHANG -- Seven people have been confirmed dead after an explosion occurred at a firework plant in Shangli county, East China's Jiangxi province, Friday evening.
The county authorities said on Saturday that the plant was ordered for production suspension by the county's work safety administration on Friday morning due to loopholes in production safety. But the plant continued production in the evening.
An investigation is underway.
FUZHOU -- A golden statue of the Chinese sea goddess Matsu traveled on a ferry Saturday from Meizhou in eastern China's Fujian province to Taiwan for a mass blessing tour.
A festival parade featuring band music with traditional Chinese drums and trumpets was held to escort the statue from its home temple in Putian to a port on Meizhou Island for the 17-day tour.
Matsu is widely worshipped in Taiwan and other coastal regions of southern China, and her believers are also found in eastern and southeast Asian countries.
The statue will make a blessing visit to 89 Matsu temples in 10 cities and counties in Taiwan, where worshiping and blessing rituals will be held for an estimated 1 million worshippers and visitors.
This year marks the 20th anniversary of the statue's visit to Taiwan. In 1997, the statue's blessing tour was a sensation in Taiwan, recording 10 million pilgrims during visits to 35 temples in 19 cities and counties, making it the most popular cross-Straits activity.
This year's blessing tour was sponsored by a number of Taiwanese companies, including Hon Hai Precision Industry, an electronic manufacturer and major supplier for Apple's iPhone.
BEIJING -- Mo Jiancheng, a former member of the Communist Party of China (CPC) committee of the Ministry of Finance (MOF), has been expelled from CPC and dismissed from public office for violating the Party's code of conduct.
Mo acted against the Party's eight-point frugality code and attended lavish banquets, and he took bribes to help other people gain promotions, said a statement by the CPC Central Commission for Discipline Inspection (CCDI).
Mo, suspected of taking bribes, took advantage of his posts to seek profits for others and accepted a huge amount of property, the statement said.
As a senior official of the CPC, he lost his faith in the Party. Even after the 18th CPC National Congress, he still showed no signs of restraint and his wrongdoings were of a grave nature, said the statement.
Mo's illegal gains will be confiscated and his case transferred to the judiciary, it added.
Mo, born in 1956, was also the former leader of the discipline inspection team sent by CCDI to MOF.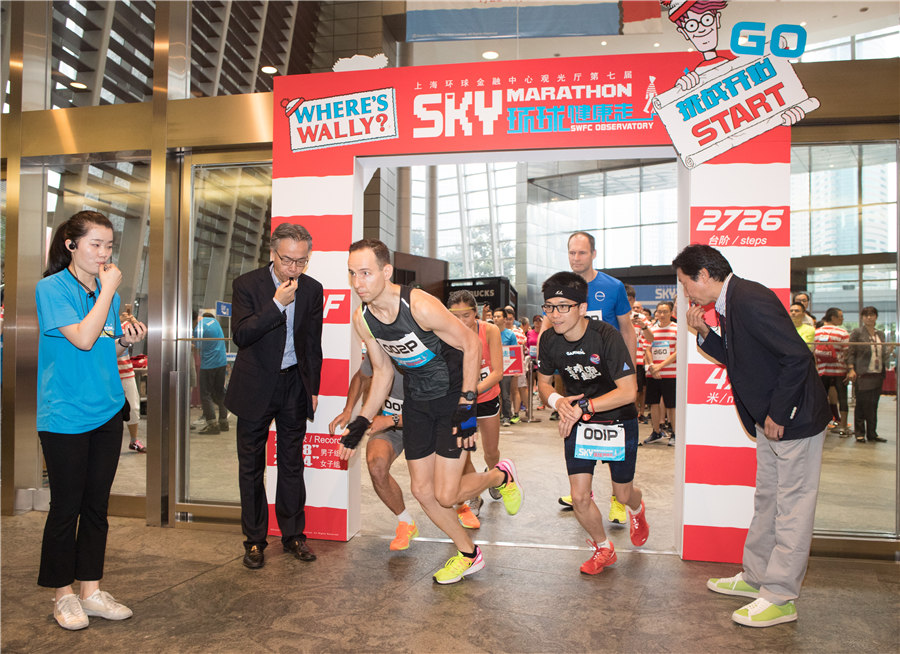 Some of the participants at the starting point of the 7th Sky Marathon which kicked off in the Shanghai World Financial Center Observatory on Saturday morning. Runners have to climb from the first floor to the 100th floor by completing 2,726 steps up the 474-meter building. [Photo by Gao Erqiang/chinadaily.com.cn]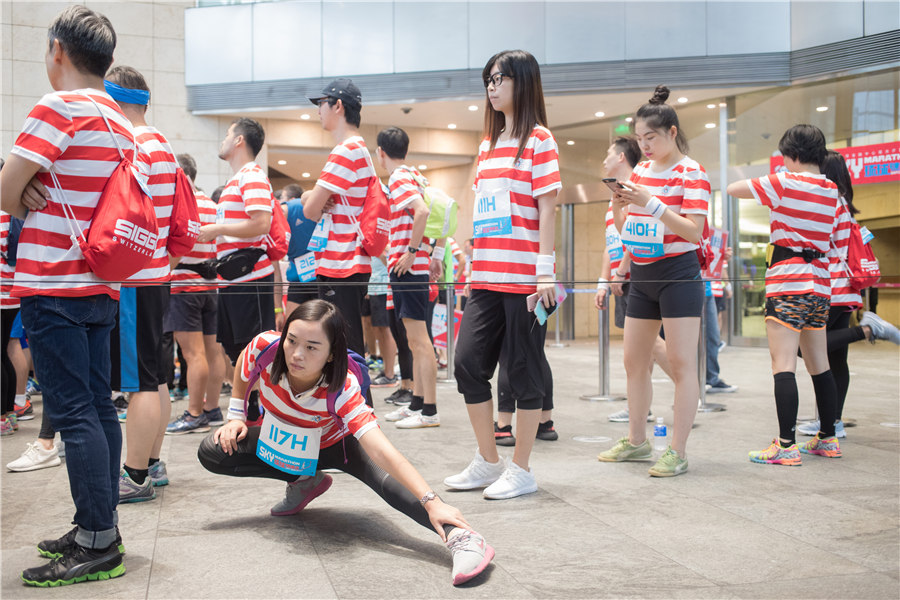 A woman warms up before the 7th Sky Marathon at the Shanghai World Financial Center Observatory, on Sept 23, 2017. [Photo by Gao Erqiang/chinadaily.com.cn]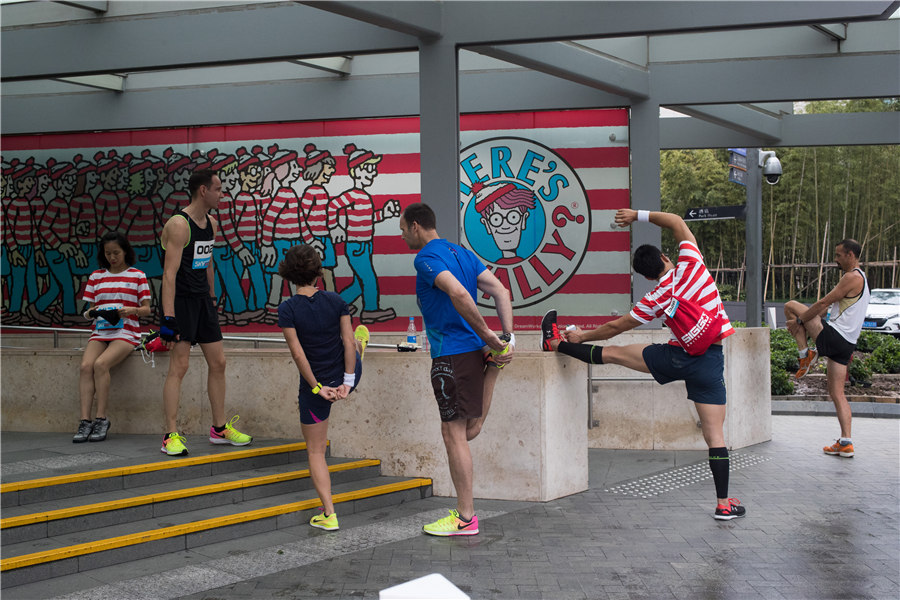 Participants prepare for the competition of the 7th Sky Marathon, which kicked off in the Shanghai World Financial Center Observatory, on Sept 23, 2017. [Photo by Gao Erqiang/chinadaily.com.cn]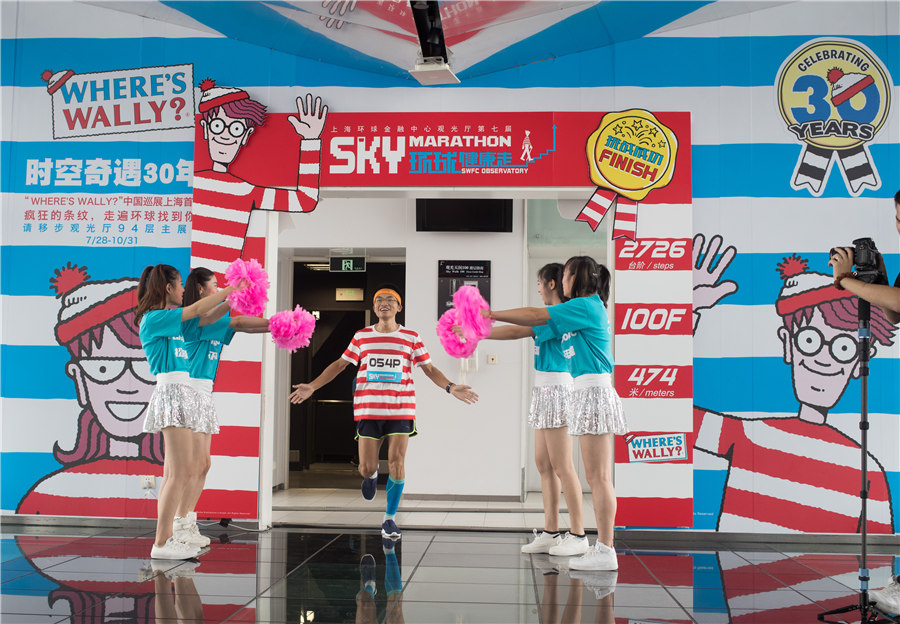 A man runs to the finish line during the 7th Sky Marathon in Shanghai. [Photo by Gao Erqiang/chinadaily.com.cn]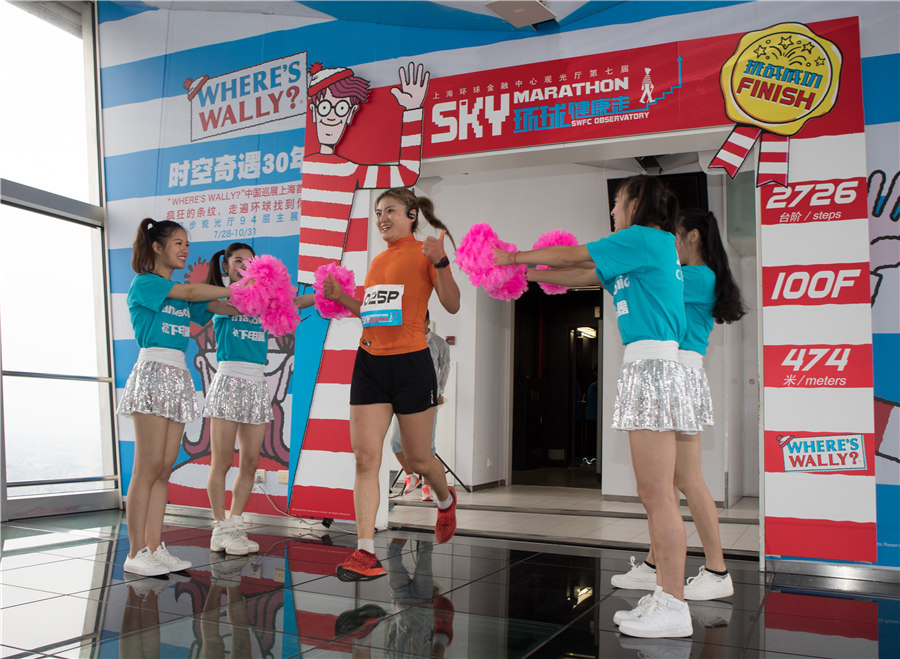 A woman completes the 7th Sky Marathon in Shanghai. [Photo by Gao Erqiang/chinadaily.com.cn]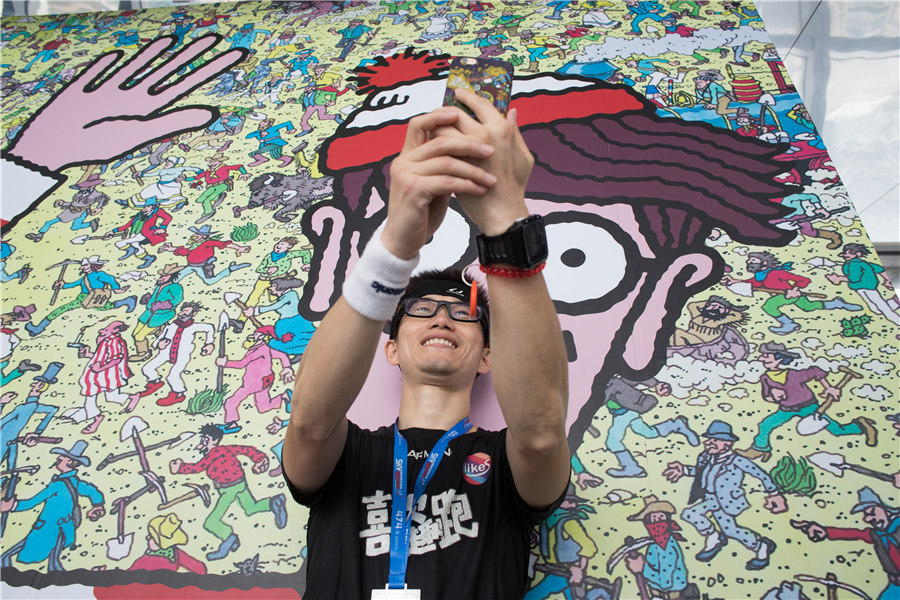 A man takes a selfie in front of a poster during the 7th Sky Marathon in Shanghai. [Photo by Gao Erqiang/chinadaily.com.cn]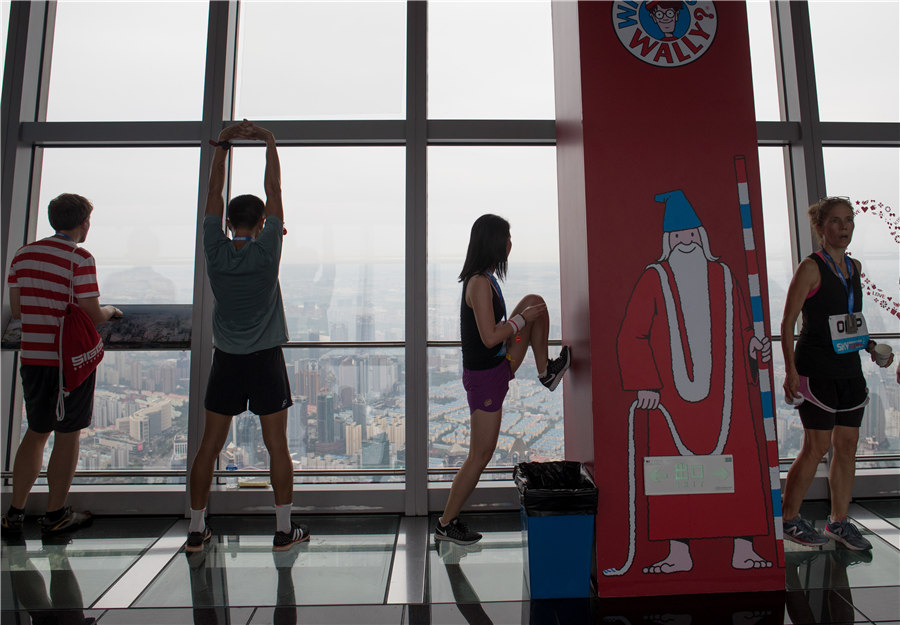 Participants stretch their bodies after completion of the 7th Sky Marathon in the Shanghai World Financial Center Observatory, on Sept 23, 2017. [Photo by Gao Erqiang/chinadaily.com.cn]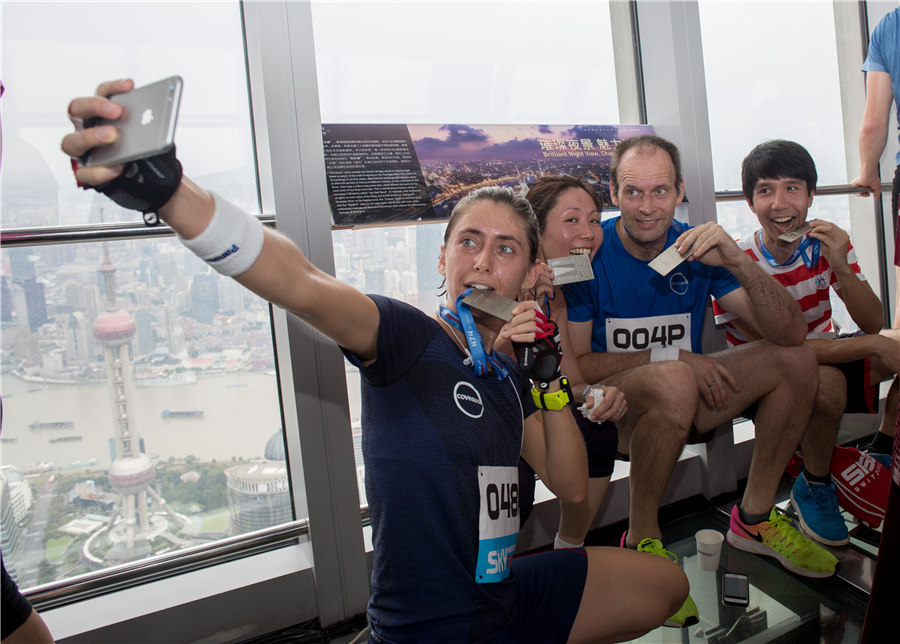 A participant takes a selfie of her group after completion of the 7th Sky Marathon, on Sept 23, 2017. [Photo by Gao Erqiang/chinadaily.com.cn]
BEIJING - Twenty-five suspects have been put under prosecutorial investigation, following a deadly construction platform collapse in eastern China last year, the Supreme People's Procuratorate announced Friday.
The 25 are suspected of dereliction of duty, abuse of power, accepting bribes, and embezzlement or bribery.
On Nov 24, 2016, a platform for the construction of a cooling tower at a power plant collapsed in Fengcheng, Jiangxi province, killing 73, injuring two and causing a direct economic loss of about 102 million yuan ($15.48 million).
Construction of the cooling tower was part of the expansion of Fengcheng Power Plant, which is owned by Jiangxi Ganneng. The tower was being built by Hebei Yineng Tower Engineering.
The investigation has found a number of officials overlooked work safety, engaged in illegal acts or irregularities in bidding, and embezzled or privately divided state assets.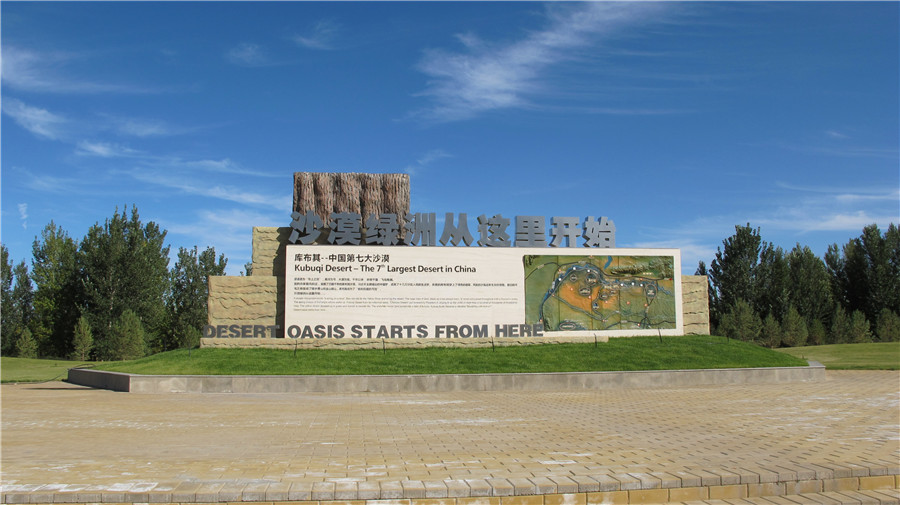 The outdoor scene of the Kubuqi Desert Ecological Science and Technology Center in the Inner Mongolia autonomous region, Sept 20, 2017. [Photo by Sun Wanming/chinadaily.com.cn]
The Kubuqi Desert, the once-barren land in the Ordos Plateau, is turning into an oasis - after three decades of efforts in desertification control.
The desert, the seventh largest in China, was the source of frequent sandstorms that also afflicted Beijing, 800 kilometers away.
But with the coordinated efforts of local government and enterprises, the participation of farmers and herdsmen, with focus on the role of science and technology, Kubuqi has witnessed remarkable progress in ecological restoration.
More than 6,250 square kilometers of the Kubuqi desert have been reclaimed in the last 30 years; rainfall in Kubuqi soared to 456 mm in 2016, compared with the less than 100 mm in 1988, and the number of sandstorms fell from 50 in 1988 to only one in 2016, according to a UNEP report.
Meanwhile, the greening efforts have also lifted about 102,000 people in the area out of poverty.
Ordos' Kubuqi model was widely lauded at the United Nations Convention to Combat Desertification (UNCCD), which just wrapped up in Ordos city earlier this month.
Its success in fighting desertification, experience in pioneering eco-restoration and developing eco-economies in desert conditions offers a solution for the world to tackle desertification.
Photo taken on Sept 19 show one section of the Kubuqi trans-desert highway. [Photo by Sun Wanming/chinadaily.com.cn]
Government's anti-desertification efforts
In the 1990s, the Ordos government was asked to prioritize the development of vegetation construction, while giving full play to the leading national and local ecological projects, with efforts to research and develop various sand control technologies.
In this effort, the government decided to divide the desert into two by building a 100-km highway across the desert, and encircle it with trees and grass, and then tackling the sand patch by patch.
The Elion Resources Group took the lead in constructing the first Kubuqi trans-desert highway in 1997. To date, five highways have been built, stretching 343 kilometers, connecting Kubuqi to the outside world.
Along either side of the highways, the land is supplied with electricity and water to grow trees, grass and herbs. Also, a 242-kilometer ecological greenbelt was built through artificial planting and large-scale aerial seeding to protect the desert's central oasis.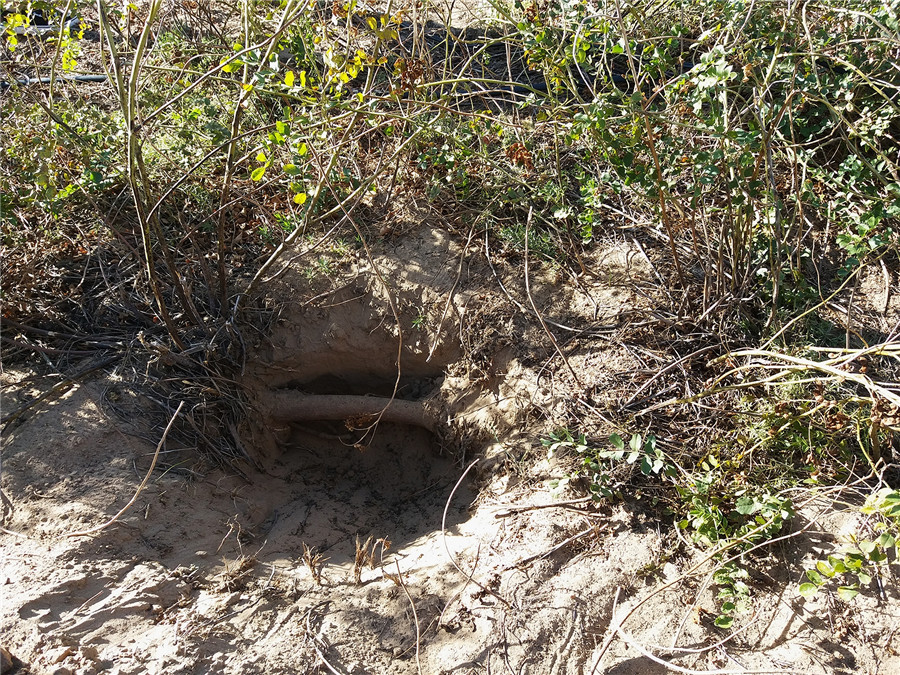 Photo taken on Sept 20 show the root of a licorice plant is exposed to the surface. [Photo by Sun Wanming/chinadaily.com.cn]
Various sand-treatment methods invented by enterprises
Over the years, enterprises in Ordos have continued to invent and modify their methods and techniques in tackling desertification.
One of these attempts, planting licorice in a square patch, was adopted to fix the drifting sand and improve the soil. The licorice, an important traditional Chinese medicinal herb, also provides extra income for the locals.
"I couldn't imagine before that I can earn 6,000 yuan ($900) per month," Wu Zhihua, 60, a local farmer, said with excitement.
The Elion Resources Group provides targeted poverty relief for farmers like Wu, by allowing them to plant licorice on their own land. The farmers can get licorice seedlings for free, and the company would buy back the grown plants at market price.
This year, over 5,000 people are expected to benefit from the poverty relief program.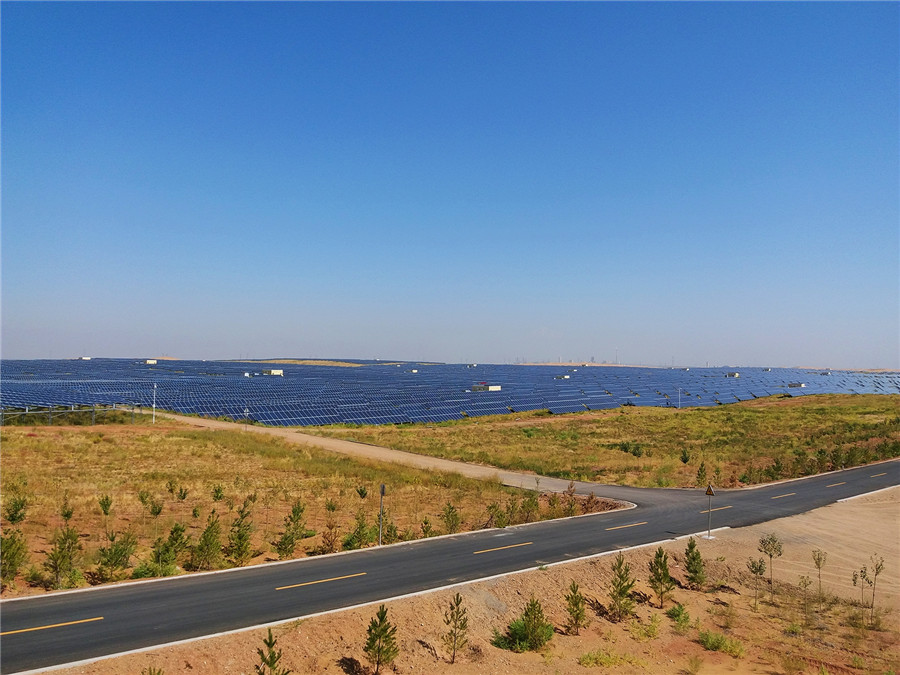 Photo taken on Sept 20 shows a PV power station in Kubuqi desert. [Photo by Sun Wanming/chinadaily.com.cn]
Another initiative of harnessing the desert involves adopting photovoltaic (PV) technology. Elion has built a 110 megawatt (MW) photovoltaic (PV) installation in the Kubuqi desert.
The ecological PV generators are the company's creative attempt with the goal of sand curbing, farming, breeding, generating electricity and poverty relief.
The locals have installed PV generators to produce electricity, while the shade under the generators provides space for undergrowth. The grass growing under the generators can also be used to feed the livestock, such as sheep and chickens.
Local farmers and herdsmen are employed to maintain the panels by doing the farming and breeding work under the generator, as well as the cleaning of PV panels.
The ecological project has helped more than 1,000 locals shake off poverty, with their annual income increasing by 10,000 yuan.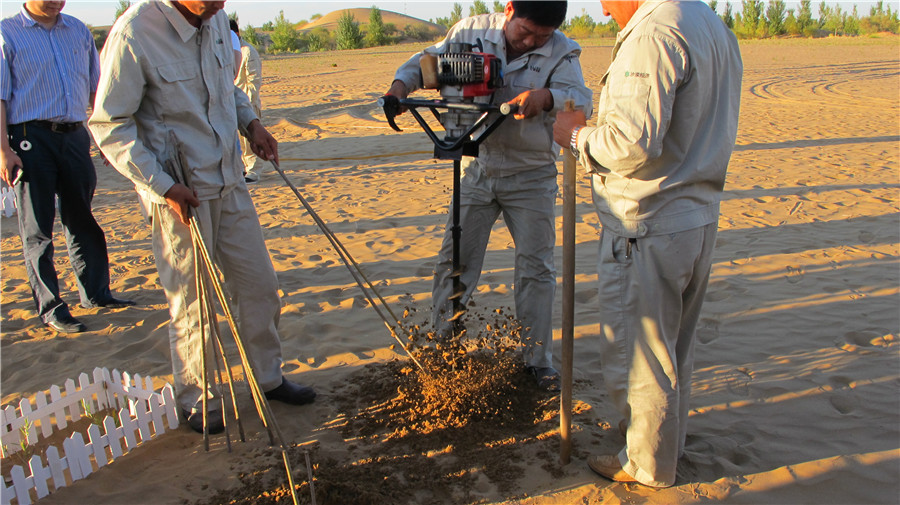 A worker drills a deep hole in the sand with an auger in Hanggin Banner, in the Inner Mongolia autonomous region, Sept 19, 2017. [Photo by Sun Wanming/chinadaily.com.cn]
In the efforts to reforest the Kubuqi desert, the Elion company also explored several "minimally invasive techniques" to reduce the damage to the soil structure.
"We have adopted hydraulic planting, auger planting and drone planting methods," said Sun Yongqiang, deputy general manager of ecological development at the Elion Resources Group.
"Auger planting takes less than 20 seconds to plant a tree. This method doesn't affect the soil structure and will keep moisture in the sand," he explained.
In areas with enough groundwater, hydraulic planting method is more efficient. Its survival rate is above 90 percent, compared with a 10-percent rate when using the traditional shovel-digging method.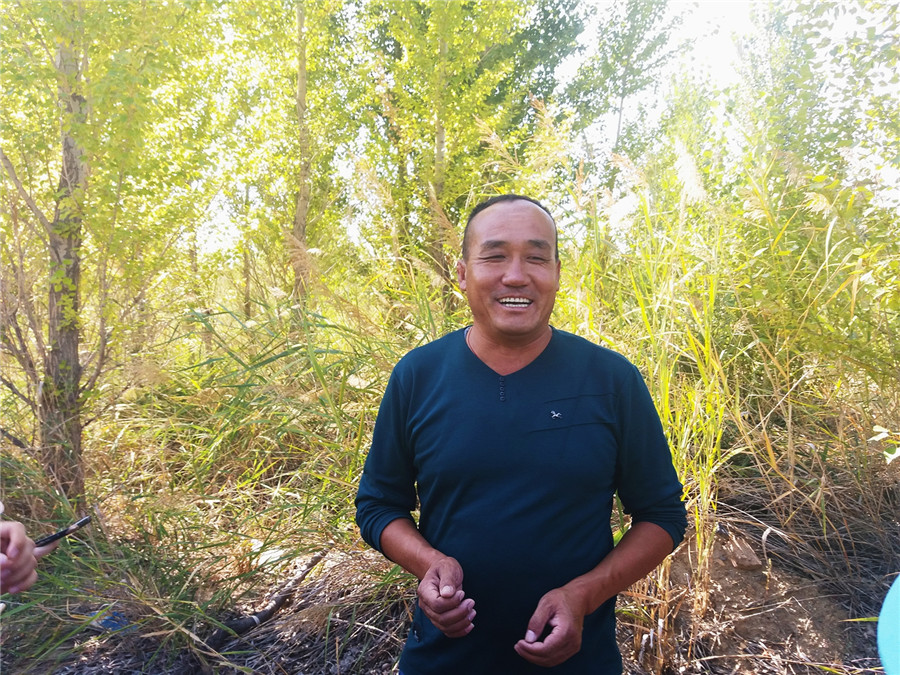 Zhang Xiwang talks about his tree planting experience in a village of Ordos city in the Inner Mongolia autonomous region on Sept 20, 2017. [Photo by Sun Wanming/chinadaily.com.cn]
Individual and team efforts in re-forestation
Forty-five-year-old Zhang Xiwang has been planting drought-resistant willow trees in the Kubuqi desert for more than 10 years.
Talking about his experience in planting trees, Zhang said he has even discovered a skill to improve their survival rate - by planting them near hidden sources of underground water.
There are more than 400 teams like Zhang Xiwang's that go around planting trees, with more than 10,000 people being involved.
Re-forestation efforts in the Kubuqi desert have transformed the livelihoods of more than 100,000 farmers and herdsmen.
Statistics from the local government show that the per capita net income of the 100,000 farmers and herdsmen living in the Kubuqi desert and its surrounding areas has reached 14,000 yuan last year.
Pages